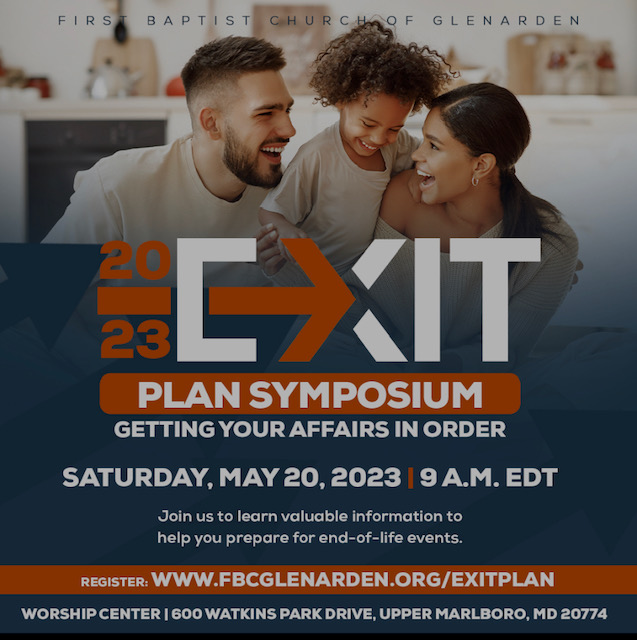 Exit Plan Symposium @ First Baptist Church of Glenarden
There is a time and season for everything under the sun. However, there is solace in knowing you and your family are prepared for the swift transitions of life. Join me at First Baptist Church of Glenarden for the annual Exit Plan Symposium on Saturday, May 20, from 9 a.m. to 1:30 p.m. EDT, to attend sessions on wills and trusts, insurance and finances, government benefits, medical affairs, and international affairs. Listen to real-life stories from those who got their affairs in order and the impact of those who failed to prepare. No matter your age or season, now is an excellent time to prepare for your future.
This symposium is free, but registration is required (in-person or virtually). There is a wealth of information to be shared, so invite your loved ones to come and learn with you.
Don't delay – register today!
9 a.m. | Opening | Praise and Worship | Welcome
9:10 a.m. | General Session #1 – What is an Exit Plan?
Rhonda Green, FBCG Funeral Services Director, Author and Founder of "My Exit Plan"
Learn why it is important to have your affairs in order.
9:40 a.m. | General Session #2 – Getting Your Legal Affairs in Order
Learn how to get your legal affairs in order; what legal documents you need to have; your rights as a spouse or adult child; what happens if your spouse dies without a will, and learn the difference between a will and a trust.
10:15 a.m. | General Session #3 – Medical Affairs
Neeraj Mendiratta, M.D. and Carolyne K. Onkoba, Kaiser Permanente
Learn how to deal with grief and learn the various stages of grief when death occurs. Understand why you need to preplan from a medical perspective.
10:50 a.m. | Exhibit Hall Presentations
11:30 a.m. | Governmental Benefits Breakout Sessions
Diane Verela, Social Security Administration
Marlene Alfaro, OHRM Prince George's County Government
Rebecca Holley, Office of Personnel Management
Know what benefits you're eligible for and how to apply.
12:10 p.m. | General Session #4 – Financial Affairs
Ernest Burley Jr., Burley Insurance and Financial Services
Learn the difference between term and permanent life insurance policies. Know the responsibilities of selling a house from an estate. Learn the ins and outs of setting up an estate with the Register of Wills and how to open an estate account.
12:40 p.m. | General Session #5 – International Affairs
Reverend Belynda Gentry, Moderator
Learn the difference between making arrangements in the United States versus other countries.
1:05 p.m. | Q and A
1:25 p.m. | Closing Remarks
All times are in EDT.
Remember, this symposium is completely free. All you have to do is register. To take advantage of this wealth of information, register today!